Welcome to Trinity Church!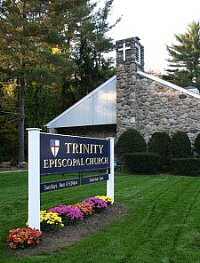 We invite you to join us in our worship and life together.
At Trinity, our goal is to make the teachings of God available to the community through a house of worship; to spread the good news of Jesus Christ by our actions and our words; to care for those in need; and to provide fellowship amongst the parish family.
Please join us!

WORSHIP SERVICES
Sunday Mornings at 8:00 am


Rite II Mass with Holy Eucharist and sermon.


Sunday Mornings at 9:30 am


Rite II Mass with Holy Eucharist, music and sermon. Coffee and conversation following in Aldrich Hall. Nursery Care is available.


Saturday Evenings at 5:00 pm


Rite II Mass with Holy Eucharist and sermon.
OFFICE HOURS
Tuesday through Thursday


9:00am - 2:00 pm


NOTE:

Rev. Johanna is out of the office on Mondays.
If you have a pastoral emergency or you would like to meet with Rev. Johanna, she may be contacted on her cell phone at (978) 407-5341 or via email.


Directions
TRINITY MAILING LIST
Please contact the Parish Office to sign up for Trinity's weekly emails.
(401) 647-2322
HALL RENTAL AVAILABLE
Aldrich Hall is available for rental. The hall features a commercial kitchen (RI Health Dept. approved). It's a great space to have your special event. For information, please call Rev. Johanna at 647-2322. Lower rates are available for parishioners.

LATEST NEWS
Trinity Food Closet
4K Walk to End Hunger
VIEW PHOTO SLIDESHOW
"Trinity Episcopal Church
welcomes Rev. Marcure"
The Valley Breeze — Jan 10, 2018
Read Article